How is straight pipe available and when should you use it?


Straight lengths of Hep 2O Standard and Barrier pipe are supplied in 3m lengths in 15mm, 22mm and 28mm diameters. Straight pipe is just as flexible as coiled pipe and is primarily intended for exposed pipework where neatness is vital or where only a short length of pipe is required.
The difference between Polybutylene (PB) and Cross-linked Polyethylene (PEX) pipe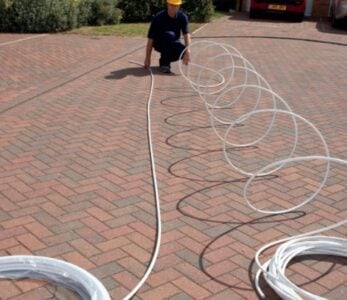 There are two main pipe materials on the market, Polybutylene (PB) and Cross-linked Polyethylene (PEX) and both have different properties.
PEX pipe is relatively stiff and when taken from the coil retains a spring-like quality, which can make it difficult to work with, particularly on long runs and when cabling through joists or floors.
Polybutylene, in comparison, is cured on massive drums, and the plastic memory means that when you uncoil it lays flatter, as seen in the image below. It's also very flexible, so easy to work with in all situations. Hep 2O pipe is all PB.
What's the benefit of Hep2O pipe coil?


A unique characteristic of Hep 2O pipe coil is its remarkable ability to remain straight once uncoiled, unlike some other plastic materials which act like a spring and makes handling so awkward that two men may well be required to carry out a relatively simple job. Hep 2O pipe is much easier to handle and much easier to cable because of its inherent tendency to stay where it's put.
Coiled Hep 2O pipe is supplied in 25m to 100m coils, in 10mm, 15mm, 22mm and 28mm diameters, in a SmartPack™ dispenser.
• Choice of Standard or Barrier pipe
• Uncoiled pipe retains its flexibility
• For installations into screed, use the Hep 2O 'Pipe-in-Pipe' system. This incorporates Hep 2O Barrier pipe in a pre-sheathed conduit as seen below.

Features of standard pipe


Suitable for domestic hot/cold water and heating applications
When used for heating, a suitable inhibitor such as Sentinel or Fernox MB1 should be used
Features of barrier pipe


Designed for central heating systems
Incorporates an oxygen barrier to inhibit oxygen permeation
Use of inhibitors are recommended as corrosion can occur in all types of system regardless of pipe material
It May also be used for domestic hot and cold water services
Note: Hep 2O pipe is NOT suitable for conveying gas, oil or underground supplies.
Still have a question about Hep 2O? Drop us a line and we'll get back to you.