Recycled materials in construction: the benefits and limitations
Wavin product & solutions
Industry insight
Healthy sustainable environments
Above ground specifier
Below ground specifier
Construction professional
---
Recycling has become a key focus in the drive for sustainability, helping to reduce waste and also reducing the cost and environmental impact of creating products with virgin materials.
As urgency increases around the climate crisis and the impact of single use plastic pollution on ecosystems reaches climatic levels, there is a pressing need for solutions, particularly in industries like construction that have a high environmental footprint. In this article we take a look at the benefits and limitations of recycled materials and the role that recycled plastics could play in the construction industry of the future.
Single-use v long-term use

Firstly, when looking at recycled materials it is important to draw a clear distinction between single use and long-term use. Single use products have a short life span and therefore cost, energy and resources used to create them will become more significant. Construction materials will generally have a long-life span which is enhanced by good quality standards and testing ensuring that the choice of product is optimised for its application (British Plastics Federation).

The largest volume of waste in the construction industry currently comes from the demolition of buildings, with only ⅓ of construction waste being reused globally (Global Alliance for Buildings and Construction). There is a possibility that the construction industry could become part of the solution to the issue of single use plastics by providing a use for recycled materials and turning single use into long term use. However, the case for recycling for construction industry products is complicated.
Limitations of recycled materials

The ultimate sustainable goal of any industry would be for a circular economy where no waste is created and all materials are reused. But for construction, as with many industries, this is extremely complex. The performance of construction materials is vital, not only in ensuring longevity and optimising whole life value of the product but also in ensuring safety, something that is front of mind for construction professionals in the UK following the Grenfell disaster and the new Building Safety Act 2022.

Recycled, reused or repurposed building materials can also conflict with other environmental initiatives. An example of this could be where innovative virgin synthetic materials provide greater insulation and therefore contribute to the overall energy efficiency of the building.
The cost of using recycled materials can in some cases become prohibitive as sorting and reusing can be costly. Whilst recycling has become quite widespread in the construction industry, the high recovery rates for construction and demolition waste in Europe are mostly achieved by using recovered waste for practices such as backfilling and low-grade recovery applications, reducing the potential to move towards truly circular waste management. (SMART Waste, Intereg Europe)Benefits of recycled materials

Of course, there are also some clear benefits to recycling. Most obviously recycling helps to prevent waste going to landfill and can also reduce energy consumption. There can also be financial benefits to companies in using recycled materials. WRAP reported that its programme to support the construction industry in reducing waste and improving resource efficiency between 2000 and 2015, with over 800 companies signing up to reduce waste, resulted in 5 million tonnes of waste per year diverted from landfill and £400 million cost savings per year realised by the companies involved.

Whilst many processes will 'down cycle' waste materials by turning them into something less useful. In some cases recycling can effectively transform waste into value offering a clear economic justification. Rockwool for example is an interesting case where stone wool is made from one-third upcycled waste, including slag from the metal industry and sludge from water treatment plants. The insulation made from stone wool is recyclable and also helps to make buildings more energy efficient.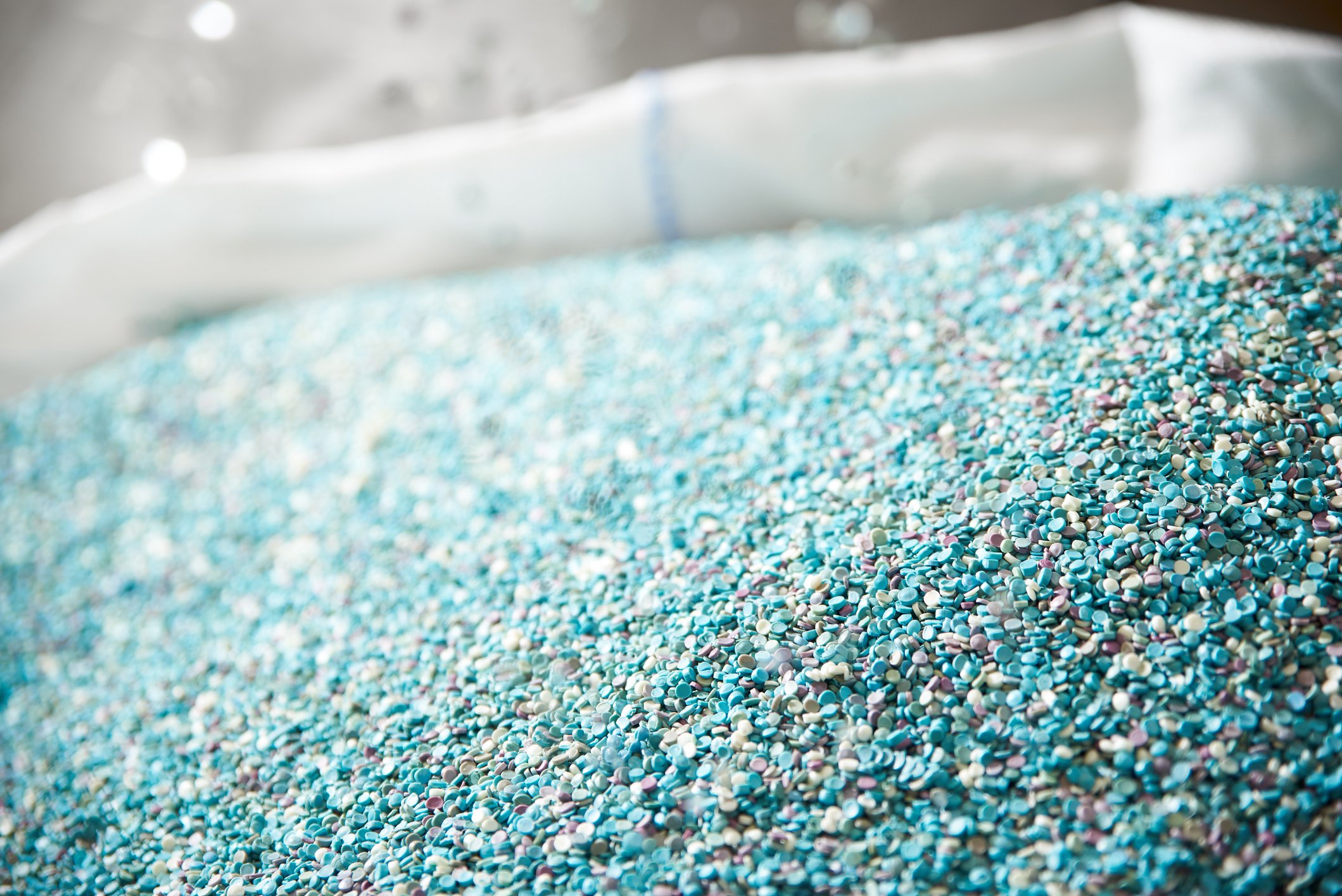 Plastic recycling

For plastics, there is a great deal of consumer waste that could be made into building products including guttering, stormwater management solutions, drainage and pipework for buildings in particular soil and waste.
At Wavin, we are continually striving to minimise the impacts of products and the use of recycled materials is one of the ways that we can do this. By 2025, our goal is to increase our global recyclate usage to 25%, grow the recyclability of our products to 90% and achieve zero waste to landfill but in order to do this we will need to continue to innovate to ensure a high performance and high quality products. Mike Ward, Territory Director Wavin UK & Ireland

Wavin's Recycore® Technology uses as much recycled material as possible to ensure that products have at least the same proven and excellent performance characteristics as the virgin products that they replace. Recycore Technology 110 and 160mm drain and soil pipes have been extensively and independently tested and their performance characteristics have been found to be identical to those required by BS EN 1401-1:2009 and BS EN 1329 respectively.


Innovation and a quality focus is required to ensure the high performance of plastic pipe made using recycled plastics. In the Netherlands Wavin has worked with recyclate supplier Van Werven to guarantee a continuous high quality of recyclate by developing calibration equipment. It measures the percentage of unmelted particles per square decimetre. Using this method improves the quality of recylate, resulting in a longer lifespan and a more durable product.
Opportunities for recycling in construction

Innovation in recycling for lower cost and higher performance options offers an opportunity for the construction industry to prevent more waste and reduce energy consumption.

Industry initiatives like Operation Clean Sweep, led by the British Plastics Federation can also help to reduce waste by eliminating resin pellet, flake and powder loss, and to help keep this material out of the marine environment.

Find out more about sustainability at Wavin