Reducing Risk in Stormwater Projects – A Guide
Projects
Below ground specifier
Stormwater
Waste water
---
Managing stormwater is an ever-growing challenge for builders and developers who need to meet the increasing regulation to control its flow.
This guide provides further details on how to ensure that your next stormwater project is delivered on schedule and on budget and complies with relevant regulations, legislations and codes of practice whilst also meeting client specifications and expected performance standards.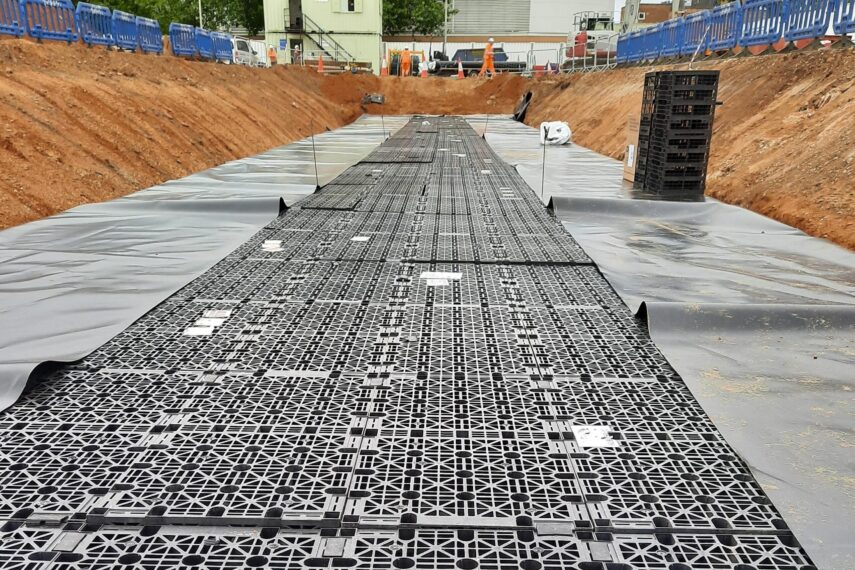 The combination of climate change and increased urbanisation are putting pressure on existing surface water infrastructure nd increasing the risk of flooding. Sustainable urban drainage systems (SuDS) and stormwater attenuation are likely to become more commonplace due to a greater focus by the government on flood prevention and climate resilience. In April 2020, the design and construction guidance for the sewage sector replaced sewers for Adoption 7 and became mandatory with some major changes relating to adoptable SuDS. The government's latest report, published in January 2022, was an assessment of how strategic surface water management informs SuDS delivery through the planning system.
From this, it seems likely that surface water risk will be given increasing priority and local planning authorities given greater leverage to demand a net reduction in surface water where appropriate. There are a number of risks that can impact stormwater projects including the completion of the project on schedule, cost increases, product availability, non-compliance and product performance. There are however also plenty of ways that these risks can be managed and reduced ensuring that the project is completed efficiently and cost-effectively whilst being compliant with relevant legislation and regulations and meeting performance requirements.
Compliance – legislation and regulations
Flood and Water Management Act 2010
The Flood and Water Management Act was designed to reduce the risk of flooding and its consequences by providing for better, more comprehensive and co-ordinated water management, embracing groundwater, surface water and coastal erosion risk. Schedule 3 of the act gives DEFRA responsibility for establishing national standards for sustainable drainage and empowers local authorities to manage local flood risk by adopting and maintaining sustainable drainage schemes. In January 2019 Schedule 3 was implemented by the Welsh Government. This legislation effectively makes the use of SuDS mandatory on new developments with the aim of reducing flood risk and improving water quality. The new standards for Wales support the 'four pillars' of SuDS. Schedule 3 has never been implemented in England or Scotland.
Design and Construction Guidance for the Sewage Sector
In England the framework for the delivery of SuDS is helped by Ofwat Sewage Sector Guidance (SSG) which include Design Construction Guidance (DCG) for adoptable sewers. This which came into force in England from April 2020 and replaced all previous versions of Sewers for Adoption. This guidance is for use by developers when planning, designing and constructing both foul and surface water drainage systems intended for adoption by English water and sewage companies under a section 104 agreement. It differs from the outgoing Sewers for Adoption guidance as compliance is mandatory.  The new code only applies to Water Companies in England. The adoption code is significant as it provides the mechanism by which water companies can secure the adoption of a wide range of SuDS components that are compliant with the document. There are however some notable exceptions to the adoptable components including green roofs, pervious pavements and filter strips. These components may form part of the drainage design but will not be adopted by the WaSC.
The new code states that the layout of the whole development including the drainage layout should be considered at the earliest stages of the design as it is fundamental to the performance and affordability of the drainage system as well as the wider urban design including the character of the development, amenity, biodiversity, connectivity and use of the site. Components for adoption by water companies will need appropriate access to each component for maintenance and a copy of the principle designers risk assessment to be submitted to the water company.
The Water Environment and Water Services (WEWS) (Scotland) Act 2003
In Scotland WEWS makes Scottish Water responsible for SuDS that deal with the run-off from roofs and any paved ground surface within the property boundary. In order to deliver this SuDS need to be designed to Scottish Water's specifications as set out in their manual, Sewers for Scotland v4.0. In addition, the law makes the use of SuDS obligatory when dealing with surface water drainage from all new developments.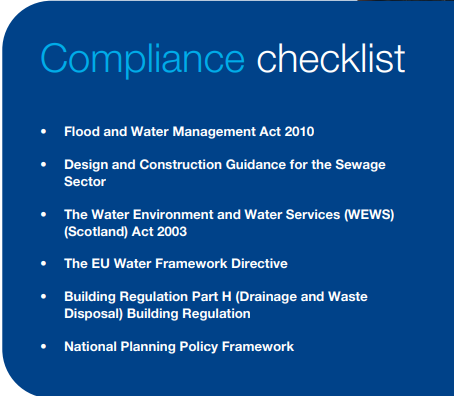 The EU Water Framework Directive



Nearly half the EU population lives in 'water-stressed' countries, caused by high extraction from freshwater sources, and demand is growing all the time. The EU Water Framework Directive introduced a new legislative approach designed to better manage and protect water resources, based not on national or political boundaries but on the natural catchment of river basins. This framework has been retained in UK law following the UK's exit from Europe.
Building Regulation Part H (Drainage and Waste Disposal) Building Regulation


Part H embraces the guidelines for drainage and waste disposal that must be met in the UK. Although Part H extends to rainwater drainage and solid waste storage, waste drainage issues are to the fore. The Building Regulations are designed to ensure that all foul water is properly disposed of to maintain a decent level of sanitation, promoting both personal and environmental health. The regulations also highlight the importance of pollution prevention, working sewage infrastructure and sewage ma
intenance. With regards to stormwater, Building Regulations Approved Document H3 stipulates that adequate provision should be made for rainwater to be carried from the roof of a building to either a soakaway, water course or sewer.
National Planning Policy Framework


Section 14 of the National Planning Policy Framework sets out policy to ensure that flood risk is taken into account at all stages of the planning process and that inappropriate development in areas at risk of flooding is avoided. The policy directs development away from areas of highest risk and where new development is, exceptionally necessary in such areas, aims to make it safe without creating an increase in flood risk elsewhere and, where possible, reduce flood risk overall. It also states developments should only be allowed in an area of flood risk if it incorporates sustainable drainage systems, unless there is clear evidence that these would be inappropriate.
Optimal Design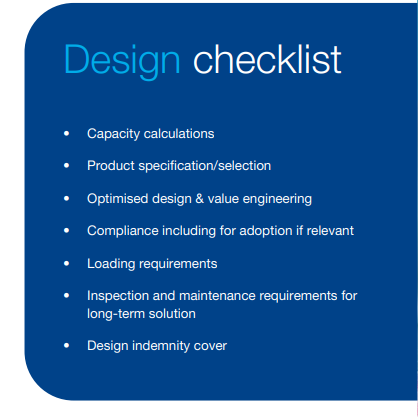 Getting the design of a below ground gecocellular stormwater system right is vital to avoid failure, meet regulations and ensure performance. In order to minimise risk, it is important to ensure that design responsibility is clear including the specification and sourcing of the tanks.
Any stormwater project will need to comply with local authority discharge or run-off requirements controlling the flow of water
back into natural groundwater reserves. An optimal design is not only vital in ensuring that these requirements are met but also that the resulting solution will have optimal performance throughout the lifetime of the system with access for inspection and maintenance. For a truly long-term solution, the system can be engineered to handle one in hundred-year storms.
Designs will need to consider many variables including the draining areas, allowable discharge, climate change factor, storm return period, soil type, water table, available space, loading type and cover depth. Consultation at the design stage will ensure that the solution is value engineered with a system that is structurally sound once installed and capable of withstanding whatever loading may be placed above them on the finished surface level. A made-to-measure modular tank solution can be used with a design that fits around any existing or planned structures including foundations to optimise storage. There are many factors and interactions to consider and design and installation of stormwater systems should be overseen by a competent engineer. Full technical support should include specification validation and/or enhancement, design calculations, product selection, CAD drawings and compliance. Risks of incorrect design can be covered with design indemnity insurance.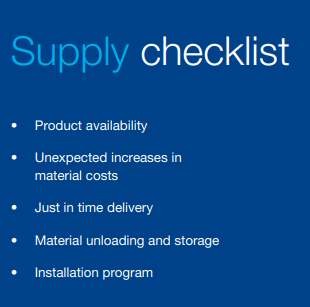 Just in time supply


Completion of the stormwater solution within an agreed timeframe will be key to keeping the overall project on schedule. Any delays can put the project schedule and budget at risk.
Product availability and delivery are particularly challenging at the moment. Purchasing products at a fixed price with a supply and installation contract can help to mitigate some of these risks by allowing the supplier to coordinate manufacture, delivery and installation working to an agreed program and price and protecting against any sudden price increases. It will also ensure just-in-time delivery with unloading and storage in line with the manufacturer's instructions. Adherence to a strict timetable will help to minimise space taken up by construction materials.
Product performance
Choosing BBA-approved products for a stormwater project will ensure that they meet the highest standards. The British Board of Agreement (BBA) ensures that all building and construction materials in the UK meet the highest of safety standards. To achieve BBA approval, stormwater systems will undergo rigorous testing in laboratory. The certification includes:
Factors relating to compliance with Building Regulations where applicable
Factors relating to additional non-regulatory information where applicable

Independently verified technical specification

Assessment criteria and technical investigations

Design considerations

Installation guidance
Regular surveillance of production

Formal three-yearly review
Inspections of production. Key factors assessed are Hydraulic design, Structural performance, Maintenance, Durability.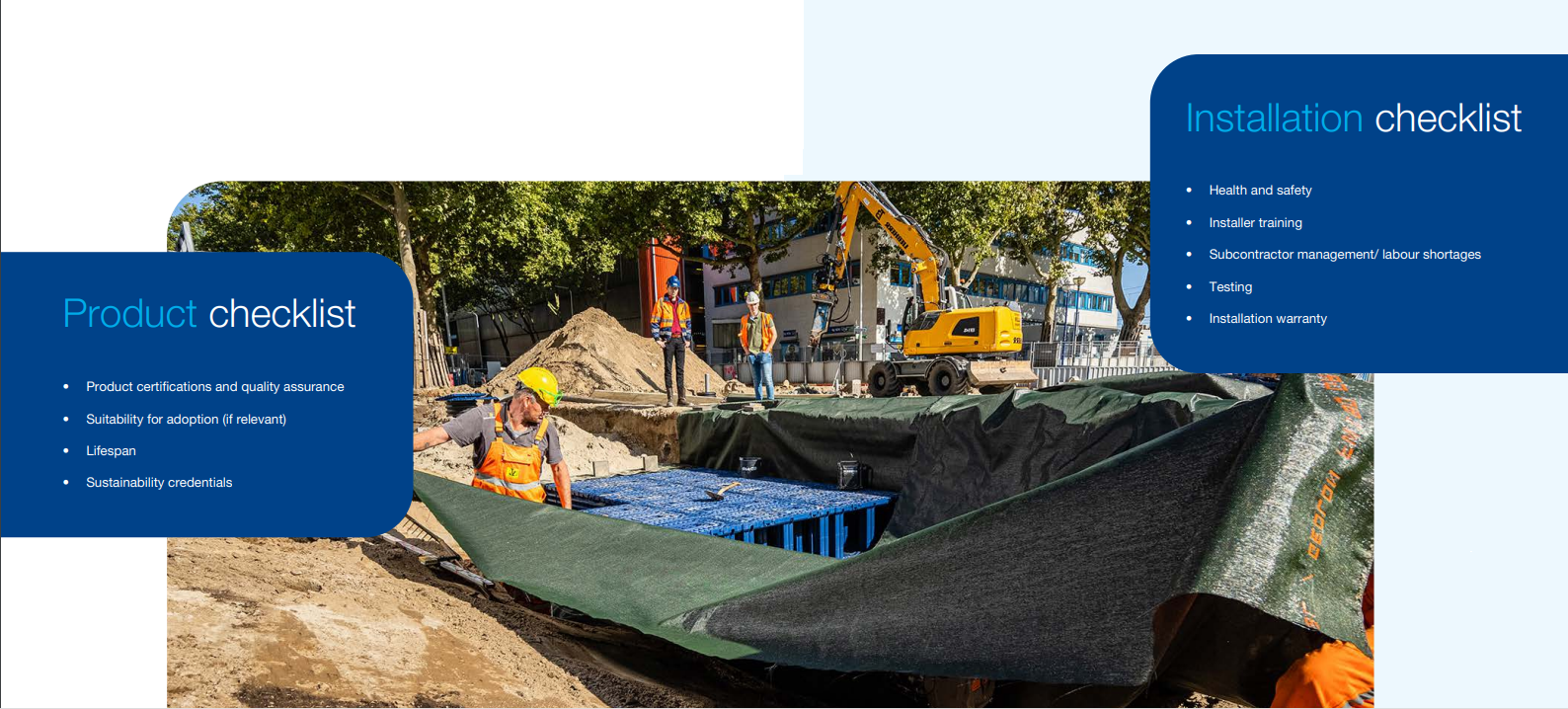 Installation


Training for installers on how to install and connect the products is vital to ensure a high-quality solution that is right first time and installed quickly and efficiently. Installers should not only have adequate competencies, but they should receive continual development including manufacturer and onsite training and experience of installing the chosen products. The sector is constantly changing with new working practices, innovation, legislation and building standards updates.
Full testing of the system will also ensure the integrity of joints and geomembranes. Full air tests and simple seam pull tests can be carried out depending on the specific contractual testing requirements.
Purchasing stormwater tanks on a supply and install basis is the easiest way to ensure that you have covered all the bases in terms of staff training, health and safety and correct installation. An installation warranty will help to mitigate any risks associated to skilled labour shortages and incorrect installation including leaking membranes.
The low risk option: Design, supply and install


Design, supply and installation will provide a fixed price and agreed schedule. It can help to manage and mitigate several possible risks with the following benefits
A total surface water management solution

Single source supply saves the time and effort of co-ordinating providers

In the ground according to your schedule

Identify and resolve any site issues upfront
The very best technical solutions

Optimised design and installation

Assured compliance and site suitability

Manufacturer product warranty

Known project costs and delivery schedules
Just-in-time delivery for installation

Installation warranty
StormForce
StormForce is Wavin's end to end solution for stormwater management can help to de-risk your next Stormwater project and get tanks in the ground on schedule. It can simplify and de-risk your project from capture and attenuation to dispersal with Wavin's 30 years' experience of designing surface water infrastructure.
Design

 – Wavin's design support will create the optimal design for your site covered by professional indemnity insurance.
Supply – 

Quality assured, BBA approved Wavin products delivered to site just in time.

Install 

– Installed by Wavin's skilled installers and underpinned with a 5 year installation warranty.
The sustainable and cost-effective solution to managing responsibility for water resources and the environment. StormForce is fast and efficient. It's hassle and risk free, and it's quality and compliance assured.
Find out more or arrange a no obligation quote here