Urban Climate Resilience: better builds and data-driven decision making
Wavin product & solutions
Industry insight
Healthy sustainable environments
Below ground specifier
Construction professional
Stormwater
Case Study Tag - Construction Manager
---
Anthony Kolanko, Wavin UK and Ireland's Commercial Manager of Urban Climate Resilience (UCR), began his career as a product designer for water treatment and control devices. Drawn to the commercial side of the water industry, he worked in the water industry for 12 years and 6 years in market development before making the move to Wavin.
Now responsible for UCR, his motivated team are spearheading an evolution in the way the UK deals with water management. We sat down for a chat with Anthony to find out more about the solutions his team deliver to the UK market, and how they're working to turn the tide on traditional approaches to water.
Q: Can you tell us a little more about UCR?
AK: In very basic terms, UCR is the next generation of stormwater management. It's a shift away from traditional rainwater solutions that position water solely as a risk, rather than a resource. These traditional methods are all about getting rid of water as quickly as possible and pumping it into rivers and seas.
UCR turns this linear approach into a circular one. Rather than just flushing water away, UCR considers how it can be managed and reused for things like green infrastructure, cooling and grey water reuse strategies. It's about asking, "what can we do with this rainwater?" and approaching it in a holistic way that considers the whole picture of water as a resource.
Q: We've seen an increase in flooding and heavy rainfall across the UK in recent years, how does UCR help us to manage this?
AK: This is a conversation I often have with clients. I think it's important to say first - let's forget the arguments about where these changes come from and what's driving them. The point is, they're here, and we're dealing with more dramatic rainfall events and flooding. So, let's move the conversation forward to how we're going to address this. That's where UCR comes in – it's a solution to climate challenges like heavy rainfall, urban heat islands and increased surface water runoff. UCR uses traditional means to deal with these challenges, but it incorporates other reuse strategies like blue-green roofs, planters, raingardens and trees to manage the water more effectively. By adding in blue-green infrastructure, UCR means the whole water cycle can take place within an urban setting.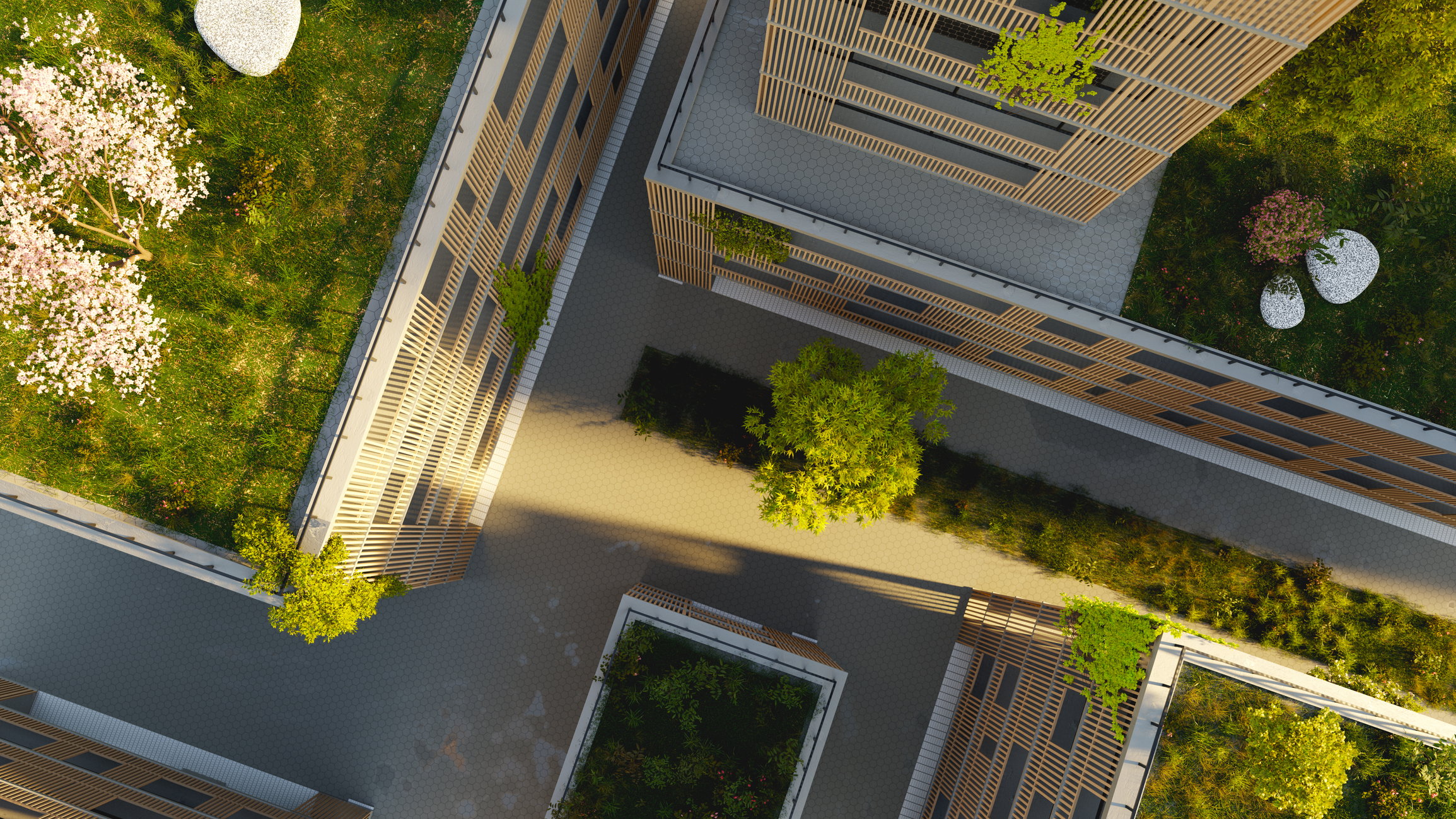 Q: What are blue-green solutions?
AK: There are lots of different blue-green solutions out there that use rainwater to add to irrigation and to supply the water needs of green infrastructure. They use blue elements like rivers, canals, ponds, wetlands and floodplains, alongside green elements, such as trees, forests, fields and parks.
Typically, the focus is on holding water close to source by storing, infiltrating and harvesting it for reuse. It means that water can be reused to do things like irrigate parks and keep urban green spaces lush and green during hot summer months. There's a lot of cross-over with Sustainable Drainage Solutions (SuDS) and these solutions are a key part of UCR, too.
Q: Can you talk through some of these UCR strategies in a little more detail and explain how they contribute to that goal of circular water management?
AK: Circular water management is a concept that's been around for decades. Many UCR practices offer multiple benefits, so there are already lots of great examples across the UK of UCR in practice – things like parks, wetlands, and urban trees. But two of the solutions that have really taken off over the past few years are blue-green roofs and raingardens.
Now, a raingarden is fairly self-explanatory. It's typically a shallow or raised area of soil planted with vegetation that stands up well to waterlogging. It catches runoff from surrounding roofs and hard surfaces, and absorbs water, giving it time to infiltrate, helping to reduce the stress on water management systems and lower the risk of flooding.
Blue-green roofs are a little more complex and there's a lot of variety on the market in terms of what these involve. Broadly speaking, a blue-green roof retains water through vegetation and an underlying engineered water storage layer. It helps to prevent flooding during heavy rainfall and the stored water can be used for irrigation and grey water. One of the key advantages of blue-green roofs is that they make a significant contribution to UCR without taking up extra space. In urban centres, roofs are often 'wasted' space, but they have huge potential to drive a holistic approach to water.
Q: There seems to be a lot of interest across the construction industry about the potential that UCR solutions like blue-green roofs have to meet sustainability goals and changing regulations.
AK: Absolutely! People are really excited. Part of the reason I moved into my current role is because I knew there was enormous potential in this area. Wavin has the size and scale to genuinely make things happen and to help the water industry adapt, so it's a real privilege to be part of that and to drive a step-change in the way we approach water, how we use it, and how we think of it.
I'm seeing a growing energy around this concept in the market, too. The customers I speak to are always keen to know more about UCR because they know it's something they'll need to invest in in the future to meet their responsibilities. In particular, the existing implementation of SuDS in Wales, as well as the upcoming adoption of Schedule 3 of the Flood and Water Management Act in England, and the new biodiversity net gain requirements in the Environment Act are on their mind. All of these changes are going to drive developer's towards more sustainable solutions and UCR is central to these.
Q: Would you say compliance is the main reason customers are adopting UCR?
Compliance is a driving factor, but not the only reason. Most customers see that it just makes sense to approach water in a more circular way on any given site - whether that's a house, multi-storey apartment block, commercial building, or even an entire urban area. There are clear benefits to managing and reusing rainwater.
Developers like UCR because just one solution can tick a lot of boxes. It's great for protecting downstream systems from flooding, meets regulatory compliance factors, reuse in grey water systems and provides the water needs of green infrastructure in urban areas. On top of that, it's not expensive - particularly when you look at its whole-life value.
I think lots of customers like the added value they get from the data these solutions can generate, too. The ability to monitor these systems remotely provides vital information for customers to use with their own clients and collaborators to strengthen future planning and the management of the site.
Q: How does something like a blue-green roof generate data for better water management?
AK: That's a value-add I often talk about, and it's a UCR aspect that surprises many customers. Our PolderRoof is a great example of how UCR solutions are evolving to support a smarter approach to water. It incorporates a range of components: a horizontal attenuation layer, sensors for water levels and weather conditions, and a platform that provides all of this information in an easily digestible format. Using local rain data reconciliation, it then makes 'smart' decisions on how best to deal with rainwater.
So, if heavy rain is forecast, the system will release previously captured rainwater to create capacity within the system before it is overwhelmed. Or, if there's a dry period coming, the system will retain water to use for plants, evaporation, building cooling and water reuse. And we can implement a range of different monitoring devices into PolderRoof, for example soil moisture and water depths. Analysing this information alongside local weather data lets users actively manage any rainfall to achieve data-based targets.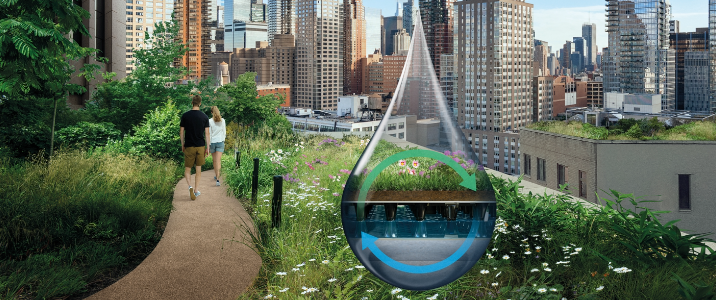 Q: It sounds like this technology is really going to advance UCR. Has uptake been quick or are there factors holding people back from investing in this smarter, more holistic approach?
UCR solutions are already widely accepted and are only going to get more popular. There's already been a significant move away from linear stormwater management to a circular approach, to the extent that circular management is now accepted practice. The smart data aspect, however, is realtively new - so as with any system that's recently developed and become more sophisticated, it'll be a slower element to be adopted by all.
But there's clear interest in the market and customers I work with want to know more and move towards more advanced UCR. I think, because this is a significant change, lots of clients really appreciate the way we take the time to talk through the solution from beginning to end and then work alongside them to ensure their project is de-risked throughout.
That's one of the things that really sets Wavin apart, we're there to support from assessing and designing the project, choosing the best solution for a given site, installation, maintenance and operations further down the line. We're a water management solution provider engaged all the way through a project and we help customers from that first interaction where they say "look, we know we need to do something, and we'd like a sustainable solution, but we don't know where to start".
Q: Compared to other countries, where's the UK at in terms of its uptake of UCR?
As a population, we're becoming more and more invested in managing our resources in a sustainable way. But, overall, I'd say we're lagging behind in the sense that we need a more urgent adoption of sustainable solutions.
There are some fantastic examples of big urban centres that are investing in green infrastructure and biodiversity within the city to cool down heat islands, manage surface water runoff and generally provide a greener and more inviting urban environment. But, generally, the UK has been slow to recognise that the biggest benefits come from weaving in blue-green solutions from the beginning of a project.
Q: How does Wavin help clients to adopt these systems and to ensure they're effective?
One of our key value-adds is that we're able to wrap everything together, rather than just providing one part of the solution. We offer integrated products that all work together to create the circular water management that I've been talking about.
Another thing that sets us apart is that we have our own in-house design capabilities to support end-clients, architects and developers. This means we can help these professionals to understand how our solutions can best be incorporated into a project. And this gives them insight into the solutions' capabilities, too - things like the water balance onsite, how to strategically use that water, how much water is needed, and when to evacuate the system or have more storage. All of these stakeholders have different 'needs' and we're well placed to serve all of them effectively.
And our clients really like the fact that our support continues long after those initial stages. We don't want purely transactional relationships, particularly in relation to the new smart data aspects of solutions like PolderRoof. We continue to work alongside these clients, visiting the site annually or bi-annually to monitor components like valves and pumps, and to ensure that the entire system is optimised, well-maintained and working efficiently. We're committed to ensuring that these systems are lasting and effective over the long term.
Q: Thank you for your time today, Anthony. What key thought would you like to leave our readers with?
That we must keep moving towards more strategic management of water and prioritising well-rounded solutions that look after water across an entire site. This means linking up the whole water system, from the roof of the building to traditional below ground storage to green infrastructure and beyond.
We've done the research and development into this, creating solutions that can be game-changers for urban water management and increased sustainability. Developers who really embrace UCR are going to see positive effects year-on-year and it's something we'll all, ultimately, benefit from.
Urban Climate Resilience at Wavin
Wavin's urban climate resilience solutions are helping our built environments to withstand the challenges of climate change. Our forward-thinking solutions provide a holistic approach to managing stormwater, reducing urban heat, supporting nature and enhancing livability for sustainable and future-proof built environments.
​
​Want to find out more about Urban Climate Resilience at Wavin? please get in touch below.